Elon Musk has performed a U-turn on joining Twitter's board a week after it emerged he had taken a surprise 9.2% stake in the social media company.
The world's richest man was due to become a board member on Saturday but Twitter's chief executive, Parag Agrawal, said on Monday morning that Musk had declined the offer. Musk, who is worth $260bn (£200bn), emerged as a large Twitter investor last week and was invited to join its board.
Announcing on Twitter that Musk would not be joining the board, Agrawal said: "I believe this is for the best. We have and will always value input from our shareholders whether they are on our board or not. Elon is our biggest shareholder and we will remain open to his input."
After the news of the U-turn broke, Musk tweeted and then removed a hand-over-mouth emoji.
On Monday it also emerged that Musk had amended his declaration to the US financial watchdog about his investment. The schedule 13D form filed with the Securities and Exchange Commission gave notice of more tweets about the company, stating that Musk might "express his views to the board and/or members of the issuer's management team and/or the public through social media or other channels with respect to the issuer's business, products and service offerings".
When Musk's 9.2% stake was made public last Monday, it made him Twitter's largest shareholder. However, a subsequent filing by Vanguard, a major US asset manager, shows the financial firm is now the biggest shareholder with 10.3% of Twitter, having held 8.8% previously.
Musk, an active tweeter with 81.3 million followers on the platform, followed up his stake acquisition with a series of posts proposing radical changes to the business.
Several of the multi-billionaire's posts have since been deleted. Suggestions included making Twitter's premium service ad-free, even though the company relies on advertising for 90% of its revenue. "The power of corporations to dictate policy is greatly enhanced if Twitter depends on advertising money to survive," Musk tweeted.
Other suggestions included asking users if they wanted an edit button – soon followed by Twitter confirming that it was working on an editing feature – and, more in keeping with Musk's playful tweeting style, whether Twitter should convert its headquarters in San Francisco to a homeless shelter "since no one shows up anyway".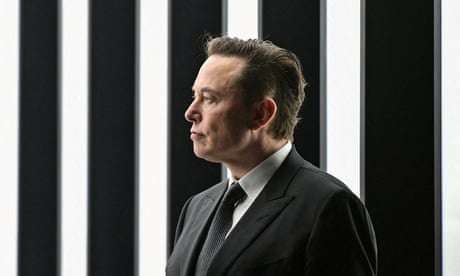 In his statement to colleagues, which he shared on Twitter, Agrawal said the board had been "clear about the risks" of Musk joining. He said the board believed that appointing Musk as a fiduciary of the business who "has to act in the best interests of the company and all our shareholders" was the best path forward.
However, Agrawal said Musk had told the company on Saturday, the day that his appointment was due to become effective, that he would no longer be joining.
Agrawal added: "There will be distractions ahead but our goals and priorities remain unchanged. The decisions we make and how we execute is in our hands, no one else's. Let's tune out the noise and stay focused on the work and what we're building."
Musk has frequently taken issue with Twitter's moderation policies, having said last year that "a lot of people are going to be super unhappy with West Coast hi-tech as the de facto arbiter of free speech".
In March, after acquiring his large stake in the company but before it was publicly known, he posted: "Given that Twitter serves as the de facto public town square, failing to adhere to free speech principles fundamentally undermines democracy. What should be done?"
Musk's use of Twitter has also caused him various legal problems, including with the SEC. In 2018 Musk and Tesla agreed to pay a total of $40m in civil fines and for Musk to have his Tesla-related tweets approved by a corporate lawyer after he tweeted about having the money to take Tesla private at $420 a share.
Twitter shares rose 27% last Monday, after Musk's stake was first announced. By the end of the week the shares were up 17% and they rose a further 1.7% on Monday, valuing the business at more than $37bn.
… we have a small favour to ask. Millions are turning to the Guardian for open, independent, quality news every day, and readers in 180 countries around the world now support us financially.
We believe everyone deserves access to information that's grounded in science and truth, and analysis rooted in authority and integrity. That's why we made a different choice: to keep our reporting open for all readers, regardless of where they live or what they can afford to pay. This means more people can be better informed, united, and inspired to take meaningful action.